We saw the full potential of the Retül and Computrainer technologies and we sought to make them work together and extract the maximum performance possible.
We developed our own tools to complement these two key technologies. We developed a very advanced system to simulate riding conditions with as much fidelity as possible. Our own original design and manufacturing of this rig allows us to hold the bike and rider in a stable position when under heavy loads. We affectionately named it the Fit Rig.
The role of the fit rig is very important: Retül measures the cyclist's body postures to within 1mm of accuracy. With this level of accuracy, extraneous data and data noise must be filtered out for the collected data to be actionable. We must measure the organic movement of the rider on the bike, not the bike moving around. This is a requirment that your typical trainer's front wheel-block can't provide: it slides around too much. The fit rig, on the other hand, provides a noise-free data platform with high fidelity to riding conditions.
Since Retül motion captures must be done at high power levels to be significant, the stability of the fit rig under high loads is critical. We tested the system up to 1,000 Watts of power output without a hint of a movement. For out-of-the-saddle data capture for climbing and track sprinting bike fit protocols, the fit rig is the only platform you can trust.
Additionally, from an operating accuracy point of view, Retül relies on a perfect horizon - blindly. It means that the bike has to be perfectly level axle-to-axle. Retül calculates angles to plumb and a non-leveled bicycle would return data that's incorrect and non-actionable - we call it garbage data.
Our rig assures the quality of data by being perfectly plum by design and thanks to an array of calibration tools. It suspends the bike from its axles, normalizing it to the horizon, no matter what bike type.
Regardless of the wheel size (650c, 700c, 24", 26", 27.5", 29"), the bike and rider are always perfectly level.
It accepts all kinds of bicycles: road, tri, mountain bikes (including Lefty, RS-1, Thru Axle), cross, track, etc. and a wide range of sizes. Since we are sought after by many juniors, the fit rig can accommodate as small as 24in wheels and race bicycles for kids as young as 7 years old. See here the junior program.
It's a thing of beauty - and quite possibly the only one of its kind in the world.
Our Fit Rig was born on a simple piece of paper, straight out of the mind of our founder, owner and Master bike fitter Steffi.
One of the motivations for its existence was the very basic necessity for fit to be successful: a level bike.
This was her thought processes: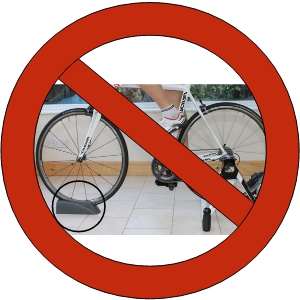 "I see many fitters using the wheel block that came with their cycle-trainer - I've seen people even use books under the front wheel! I don't understand why. The wheel block is not designed for bike fitting: it's not level; it's not solidly affixed to the ground. Bike fitting protocols have the specific need for the bike to be perfectly level -and stable. When fitters use a wheel block, they are really setting you up for failure. Customers cannot benefit from the fit done in this fashion. That's not acceptable. I wasn't going to let this happen to our customers."
An additional motivator was the need for a stable platform.
"I realized that with Retül's 1mm measuring accuracy, I needed to create a supporting apparatus that would help me separate the noise of the bike's induced secondary motion from the organic movement of the rider. We have to take motion capture data at high power level to be meaningful. Everyone pedals pretty when they are comfy. We learn nothing from that. But with the rider at high power output we put a lot of stress on the fit rig. So, I designed the apparatus to be very stable. This way, the collected data is accurate and actionable. We can't accept bad data. The success of the fit depends on it."
And so the bike fitting apparatus, AKA the Fit Rig, came to life from these very important observations.
It went through stages of development and growth. It took input from our talented fabricator and from our customers. It had to keep up with its developer's imagination and the growing complexity of our customer's needs.
"This is a product that's completely transparent to the customer. It's expected to do its job as intuitively as its functionality appears to them. But it deserves a lot of attention, because the fit rig is what allows me to do what I do best for you."
Much attention was devoted to making specialty parts to allow for a wide-range of bicycle sizes and types.
"We studied many bikes and components. We developed the fit rig with modular and replaceable parts, so it could transform to accept the many variations in bicycle design. Ad-hoc parts had to be developed to address the challenges of ever-changing fork and wheel attachment points. We work with a wide range of rider, from very young to very tall. The fit rig had to keep up with all of that. The latest challenge is with fatty and plus-sized mountain bikes."
The opportunity for the fit rig to be also an information and media center became apparent shortly after the first prototype was build. In version 2.0 the fit rig was outfitted with a 20in LCD monitor and a laptop PC station. A large boxed fan was introduced for rider's comfort.
"I wanted my customers to see the data I see. This way, I can make you part of your bike fit; get you involved. I can explain each step of the bike fitting process, helping you understanding what I am doing and giving you the opportunity for active feedback. It also helps quantify the improvements from each change in your position. It's very neat."
In version 3.0, the fit rig had grown to two side-by-side 22in wide-screen LED monitors with two laptop PCs, a Computrainer command center and a tool tray for a full complement of bike fitting tools at our fingertip. The boxed fan location was further improved to accommodate the many cooling preferences of each client.
With tests, re-designs and improvements, the fit rig came to exist as it does today: the perfect complement to bike fitting and performance testing.
Come test it for yourself!
A sizing or fit bicycle is a must-have piece of equipment for any bike fitting operation that wants to be a legitimate bike fitting business. It's the foundation for sizing customers looking to buy a new or used bicycle. It's the cornerstone of pre-sale consultation services.
If a bike fitter doesn't have a sizing/fit bicycle (or knows how to use it), then it's not a reputable business.
"Even though we don't sell bicycles, much of our activities revolve around advising customers on the right size and geometry. Exactly because we don't sell bicycles, our bike sizing services are sought after for a completely unbiased advise."
When we were faced with the decision of purchasing a sizing/fit bicycle, we searched all commercially available products.
The need for developing our own custom sizing rig arose from the realization that there is a gap in these commercially available sizing/fit bicycles and the advanced features we felt are needed to properly size modern bicycles.
Our founder, owner and senior fitter Steffi decided to develop a sizing technology to overcome the common limitation of all currently available sizing/fit bicycles: the simulation of the head tube angle and seat tube angle.
"All commercially available sizing/fit bicycles are adjustable only in 2D: horizontally and vertically. They forgo the ability to emulate angles like the head tube angle and the seat tube angle because it's more difficult to engineer and more expensive to fabricate. Some of these sizing/fit bicycles look very sophisticated. Some are controlled by servo motors connected to a computer. They look very fancy. But that doesn't overcome the underlying limitation. Some attempt to use software to calculate post-fit the angles. It doesn't work. It's just inaccurate".
Our fitter knows well. We developed our own proprietary software, Dream Bike to attempt overcoming this issue with more sophisticated algorithms. We introduced a very advanced stem emulation which accounted for many stem production variations. Our sizing rig in version 2.x was 2D and relied on our software to predict head angles. It was good, but not great. We saw the software predictions get to within 2-3mm of real life. That margin of error is the difference in one size in a bike (hint: look how the reach and stack vary by size). This observation was our motivator in developing our own sizing/fit bike technology. We discuss this further in our bike sizing article and in our custom geometry page.
The ability to simulate the head tube angle is vital in determining the right stem length and rise as well as the correct handlebar reach. The sizing rig can emulate any head angle and even the headset and spacers set up for a hi-fidelity bike analog.
During the sizing session, the length of the stem is used as a check point: if the stem is too short, it means the geometry being tested is too big; too long and the bike is too small.
For pre-sales consultation, the head angle emulation allows us to complete the sizing process with a spec sheet that includes the correct length and rise of the stem, so the bike can be spec'ed this way. For customers looking for advanced aero bikes, this is a major cost saving feature, as it allows to spec out the size of the integrated aero bar+stem combination. These sophisticated aero bars are expensive to replace and highly proprietary to each brand. Knowing the right size can make a big difference in cost and waiting time.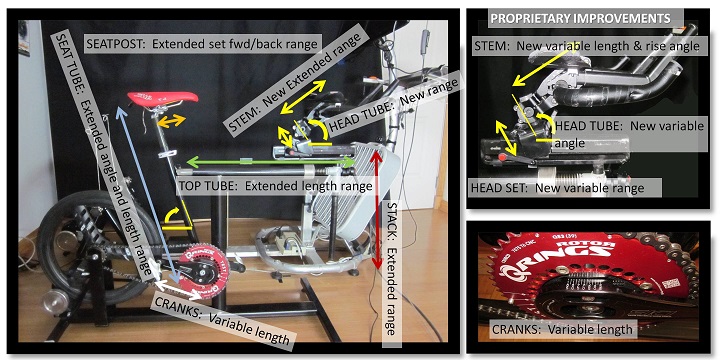 The ability to simulate seat tube angle is crucial in the assessment of the crank length. These two parameters are locked in a performance dance that must be closely managed to avoid the potential for injuries and to maximize performance.
Because we are sought by customers who travel world-wide to get fitted and can't bring their own bike, the ability to offer a high-fidelity bike emulation is vital in their success to take their fit back home and transfer it successful to their bike while thousands of mules away from us.
It's a real game changer.
"What this size rig does is simply amazing. Coupled with the Retül motion capture technology, it's such an advanced tool, we can use it to simulate any bike, any size. It's so powerful, we can design a custom bicycle literally underneath you, sized for the way you interact with it."
The Size Rig can transform itself and simulate any bike model geometry and size: Road, Tri, Mountain. We can input all the relevant bike geometry specifications of the model(s) you want to test out: Seat Tube length, Top Tube Length, Head Tube Reach and Stack,
Quite possibly the most advanced sizing/fit bicycle because of our unique, proprietary engineering of the front-end: the only of its kind with variable head angles.
It is so sophisticated in its flexibility that it can be used to custom design a bike to your body specifications.